Definition
A clavicle fracture is a common injury caused by trauma to the shoulder. This diagnosis is most commonly seen in males under 30 years old, but can be seen in all populations. Approximately 80% of these fractures will occur in the middle third of the clavicle due to the lack of muscular and ligamentous support to this section of the bone.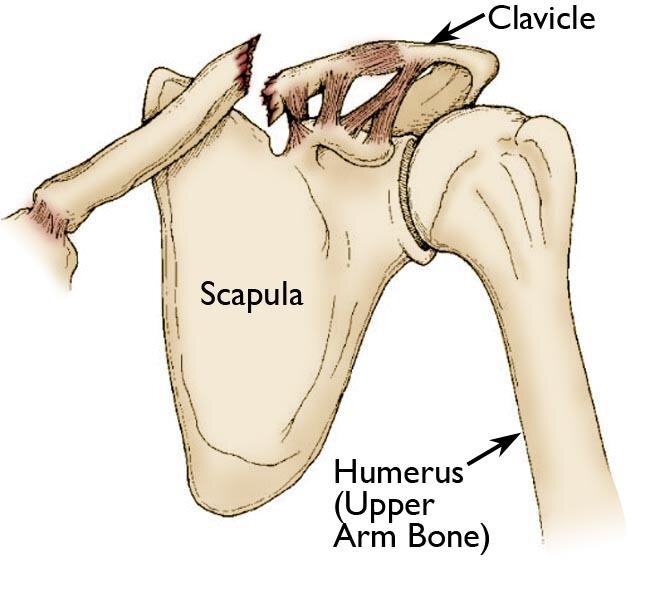 Anatomy
The collar bone is an S-shaped bone that resides between the scapula (shoulder blade) and the sternum. It acts as a strut between the shoulder girdle and the thorax, or ribcage. When the clavicle breaks, the medial fragment generally displaces superiorly and posteriorly due to attachment of the sternocleidomastoid muscle while the lateral fragment displaces inferiorly, shortened, and internally rotated due to the pectoralis muscle and weight of the arm.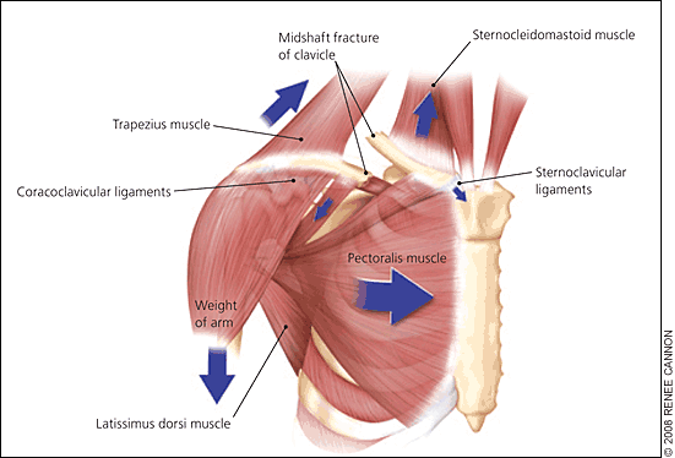 Patient Presentation
Collar bone fractures are typically the result of a fall onto the affected arm or direct trauma to the shoulder. Symptoms after sustaining a clavicle fracture include pain over the collar bone, inability to move the shoulder without discomfort, swelling, bruising, tenderness, and possible deformity if the fracture is significantly displaced.
Diagnosis
X-rays are needed to confirm the diagnosis and determine the severity of a clavicle fracture. An AP view of your shoulder will be performed as well as a Zanca view which helps to determine degree of displacement. CT scans are rarely required. A physical exam will also be performed to assess for areas of tenderness, deformities, skin changes, and possible neurovascular injuries.
Classification
Clavicle fractures are first organized by their location on the bone. Middle third clavicle fractures are most common followed by the lateral third and then the medial third. There are several classification systems that can be utilized.
Allman Classification
Group 1 = Middle third
Group 2 = Lateral third
Group 3 = Medial third
Neer Classification
The Neer Classification further differentiates group 2 fractures of the Allman classification.
AO/OTA Classification:
Proximal (medial) segment – extra-articular, partial articular, complete articular

Middle (diaphyseal) segment – simple, wedge, multi-fragmentary

Distal (lateral) segment – extra-articular, partial articular, complete articular

CC ligament complex intact, non-displaced – non-operative

CC ligament complex partial disruption, displaced – non-operative vs operative

CC ligament complex complete disruption, displaced – operative
Non-Operative Vs Operative Management
Most clavicle fractures are managed non-operatively in a sling for 2-3 weeks along with rest, ice, and physical therapy. The sling or shoulder immobilizer will provide support for the shoulder while the fracture heals. The patient may remove the sling when he or she has minimal pain and x-rays show the fracture is healing appropriately. Gentle range of motion exercises can begin at 2-4 weeks, strengthening at 6-10 weeks and most patients have no restrictions by 12 weeks.
Surgery may be recommended for significantly displaced clavicle fractures to decrease the incidence of malunion or nonunion across the fracture site. In the right patient, this may improve functional outcomes and overall satisfaction with your shoulder. Surgery may also be considered in contact athletes or year-round athletes due to quicker return to sport.
Complications of surgery are rare but can include damage to neurovascular structures, infection, malunion, nonunion, or hardware prominence that may require removal if continuously symptomatic. These complications are more common in smokers, patients with poor nutrition, diabetes, and steroid use.
Dr. Dold is accepting new patients. To schedule a consultation, either schedule online (our staff will contact you within one business day to confirm appointment date and time) or call the office at 469.850.0680.
Important Clavicle Fracture Articles To Consider:
Operative versus nonoperative care of displaced midshaft clavicular fractures: a meta-analysis of randomized clinical trials (McKee et al. 2012).
Nonoperative treatment compared with plate fixation of displaced midshaft clavicular fractures. Surgical technique (JBJS 2008, COTS and McKee et al.)
McKee: What I Have Learned Most About Fixing Displaced Fractures of the Clavicle
*Dr. Dold trained with Dr. Michael McKee at the University of Toronto.
Management of distal clavicle fractures (JAAOS 2011).
The Clavicle Trial: A Multicenter Randomized Controlled Trial Comparing Operative with Nonoperative Treatment of Displaced Midshaft Clavicle Fractures (JBJS 2017).
Operative Versus Nonoperative Management of Displaced Midshaft Clavicle Fractures in Pediatric and Adolescent Patients: A Systematic Review and Meta-Analysis (JOT 2019).
Return to sport following clavicle fractures: a systematic review (NYU Bulletin 2016).
Comparison of plate osteosynthesis versus non-operative management for mid-shaft clavicle fractures-A prospective study (Injury 2018).
Surgery for the fractured clavicle: factors predicting nonunion (JSES 2018).